About Us
Jema Clinic in Maryborough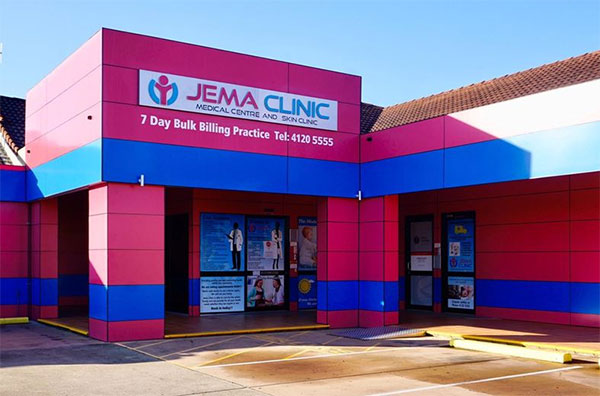 A positive prescription for better health and wellbeing
Jema Clinic is a place where family matters. That's what makes us so dedicated to ensuring that each individual patient receives the best possible advice and treatment; because we know their health and wellbeing matters, not only to them and to us, but also to their loved ones. Our family is honoured to take care of yours.
At Jema Clinic, we care deeply about three things – our patients, our people and our practice.
OUR PATIENTS
We take our patients' quality-of-care very seriously. Providing the highest standard of clinical treatment for each individual's health needs is paramount. Our approach to patient care is also built on:
Treating all patients with consideration and respect
Observing privacy and confidentiality
Acting with honesty and integrity
Delivering comprehensive, consistent and collaborative healthcare at all times.
Of course, great health is not only about medicine, it's about healthy lifestyles and effective choices too. So it's important to us that our patients receive the education, support and options that allow them to make better decisions about their own health management from adolescence to midlife and beyond.
OUR PEOPLE
Jema Clinic's experienced team prides itself on combining clinical expertise, proactive care and the latest medical information and technology to give patients the level of diagnostic and treatment excellence they deserve.
As you'd expect, our doctors are highly-trained, fully-qualified and accredited and continually update their skills. But importantly, they are also friendly, easy to talk to and compassionate.
They believe in providing individualised, personal care and will take the time to get to know you and understand your specific health needs.
You can count on every member of our team to go out of their way to ensure your health concerns are heard and addressed, and your visits run smoothly.
OUR PRACTICE
Jema Clinic is all about ensuring you enjoy a better healthcare experience.
To do that, we offer a comprehensive and integrated range of services to patients of all ages at one convenient location.
We understand that visits to the doctor can be daunting, so we have created a modern and comfortable environment where you can feel at ease.
Using the most up-to-date methods and equipment, and user-friendly processes and systems, our focus is always on helping patients benefit from the best possible treatment available – from basic medical care to complex medical problems.
We are a practice with a genuine concern for the health and wellbeing of all people in our community.
Our Objectives
To have a positive influence on the health and quality of life of our patients
Modern medicine has long been about managing and providing cures to illness, to help people move from poor health to good health. Jema Clinic's mission is to help our patients not only get well and achieve good health, but to stay well so they can live a healthy and happy life.
To be proactive rather than reactive
At Jema Clinic, we believe that preventing a disease before it happens is every bit as important as treating it. Illness can be prevented by identifying health risks, catching the early signs of disease and then doing something about it. We help patients develop preventative health strategies that put them on a path to optimal health and wellbeing.
To provide easy-to-access quality medical services
Whether it's a routine check-up, a specific procedure or more complex needs, we strive to make your experience as smooth and comfortable as possible. We respect your time, prioritise emergencies and try to balance the needs of each patient while staying on schedule. As a Bulk Billing* practice, Jema Clinic also provides affordable care. So if you are a Medicare cardholder, you will not be charged to see the doctor.