Covid-19 Updates and Vaccinations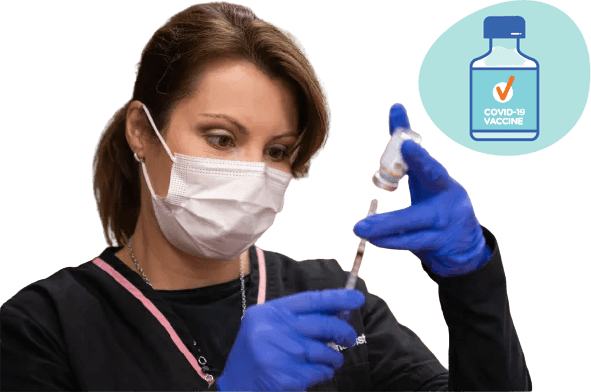 People who have a COVID-19 vaccination have a much lower chance of getting sick from the disease called COVID-19.The COVID-19 vaccination is free. You choose whether to have the vaccination or not.
To be vaccinated you will get a needle in your arm. You need to have the vaccination two times on different days. There are different brands of vaccine. You need to have the same brand of vaccine both times. The person giving you your vaccination will tell you when you need to have the second vaccination.
Medical experts have studied COVID-19 vaccines to make sure they are safe. Most side effects are mild and don't last for long. As with any vaccine or medicine, there may be rare and/or unknown side effects.
You can tell your healthcare provider if you have any side effects like a sore arm, headache, fever or any other side effect you are worried about. You may be contacted by SMS within the week after receiving the vaccine to see how you are feeling after vaccination.
Some people may still get COVID-19 after vaccination. So you must still follow public health precautions as required in your state or territory to stop the spread of COVID-19 including:
Keep your distance – stay at least 1.5 metres away from other people

Washing your hands often with soap and water, or use hand sanitiser

Wear a mask, if your state or territory has advised that you should

Stay home if you are unwell with cold or flu-like symptoms and
arrange to get a COVID-19 test.
Vaccination providers record all vaccinations on the Australian Immunization Register, as required by Australian law. You can view your vaccination record online through your:
Medicare account

MyGov account

MyHealthRecord account.
ELIGIBILITY RECOMMENDATION AND LINK TO ELIGIBILTY CHECK
There is significant demand for safe and effective vaccines to end the COVID-19 pandemic. As vaccines become available, they are prioritised for people in higher risk groups.
Priority groups have been identified using public health, medical and epidemiological evidence, including expert advice from the Australian Technical Advisory Group on Immunisation(ATAGI). This advice is consistent with the World Health Organisation.
This includes people that would be at higher risk of serious illness if they contracted COVID-19, and those most likely to be exposed to it.
ATAGI has developed a number of guidance documents to assist vaccine providers to make clinical decisions on who should receive the vaccine.
Patient Eligibility
Practices should only book patients who meet the eligibility for each phase of the roll-out.
Phase 1b priority population groups include:
People 70 years of age or older;
Health care workers;
Aboriginal and Torres Strait Islander adults over 55 years;
Younger people with an underlying medical condition, including people with a disability; and
Critical and high risk workers, including Australian Government officials about to be deployed overseas on official government business.
Please note: People who are not eligible for Medicare can still receive a free COVID-19 vaccination service at a General Practitioner ledRespiratory Clinic or at a state or territory vaccination clinic.
Visit the COVID-19 Vaccine eligibility check: www.covid-vaccine.healthdirect.gov.au/eligibility?lang=en
QUESTIONS AND ANSWERS
Is it mandatory to get a COVID-19 vaccine?

No, it is not mandatory to get a COVID-19 vaccine. While the Australian Government strongly recommends COVID-19 vaccination, individuals can choose not to be vaccinated.

It is possible that in the future, vaccination against COVID-19 might become a requirement for travel to certain destinations or for people working in or visiting certain high-risk workplaces or facilities, such as aged care facilities. If this becomes the case, there will be exemptions in place for people who are unable to be vaccinated.

How much does it cost to get a COVID-19 vaccine?

People residing in the Australian community, including visa holders, will be eligible for the COVID-19 vaccine national rollout according to priority groups. The COVID-19 vaccine will be voluntary, universal and free. The Government aims to have as many Australians as possible choose to be vaccinated for COVID-19. More information can be found in
Australia's COVID-19 Vaccine and Treatment Strategy.

How long does it take for COVID-19 vaccines to work after receiving them?

Partial protection against COVID-19 may be achieved as soon as 12 days after the first dose of Comirnaty, and 22 days after the first dose of COVID-19 Vaccine AstraZeneca. However, this protection is likely to be short lived unless a second dose is given, and all people are recommended to receive the second dose to provide optimal protection.

What if a person does not get the second dose of a COVID-19 vaccine?

A single dose of COVID-19 vaccine will provide only partial protection against COVID-19 and this protection is likely to be of shorter duration unless the second dose is given. For optimal protection against COVID-19, two doses are required.

Why are multi-dose vials being used?

Multi-dose vials (MDVs) contain more than one dose of a vaccine in a single glass vial. Each dose is extracted and given via an individual syringe. Given the huge demand for COVID-19 vaccines worldwide, there are not enough vials available globally for single-use prefilled syringes to be used in the first stages of the global vaccination effort. MDVs are the most efficient way to distribute a new vaccine to the maximum number of people and are being used world-wide for all COVID-19 vaccines. It is expected that COVID-19 vaccines will only be available in MDVs in 2021. Providers will receive additional training on the use of MDVs and must follow guidance on how to safely handle and administer vaccines supplied in MDVs. Refer to Training materials for immunisation providers for COVID-19 vaccination program in Australia.

Why do vaccine recipients still need to practise public health measures (e.g. physical distancing) after completing vaccination?

It is not yet known to what extent COVID-19 vaccines protect against transmission of SARS-CoV-2 at the individual or population level. This means that although a fully vaccinated person will obtain strong protection against becoming ill with COVID-19, it is possible they may still get infected with the SARS-CoV-2 virus and pass it on to others, even if they do not have any symptoms. This is also true for other vaccine preventable diseases (including influenza, pertussis and rotavirus) and does not necessarily mean that vaccines will not be highly effective in reducing the impact of COVID-19. It will take time to gain more data to answer these questions.

To prevent transmission of SARS-CoV-2, it is essential to continue practising COVID-19 prevention measures like physical distancing, handwashing, wearing a face mask, COVID-19 testing and quarantine or isolation as required.
Questions about the safety of COVID-19 vaccines
What are the contraindications and precautions to COVID-19 vaccination?

The only absolute contraindications to receipt of COVID-19 vaccines are:

Anaphylaxis after a previous dose.

Anaphylaxis to any component of the vaccine, including to polyethylene glycol (PEG) for Comirnaty, or to polysorbate 80 for COVID-19 vaccine AstraZeneca.

Precautions should be considered if the vaccine recipient:

Is acutely unwell, e.g. febrile ≥38.5°C. Vaccination should be temporarily deferred until the recipient has recovered.

Has a bleeding disorder or is receiving anticoagulant therapy. Refer to the Australian Immunisation Handbook for guidance on vaccinating people with bleeding disorders.

Has any of the following histories and may therefore require vaccination in a facility with medical staff in attendance, observation for at least 30 minutes post-vaccination, and/or consultation with an immunologist or specialist immunisation clinic prior to vaccination:

Immediate (within 4 hours) and generalised symptoms of a possible allergic reaction (e.g. urticarial/hives) to a previous dose of a COVID-19 vaccine.
Generalised allergic reaction (without anaphylaxis) to any component of the COVID-19 vaccine to be administered.
Anaphylaxis to previous vaccines and/or multiple drugs (injectable and/or oral), where ingredients such as PEG or polysorbate 80 may conceivably be the cause.
Known systemic mast cell activation disorder with raised mast cell tryptase that requires treatment.

Special circumstances that may warrant discussion during the consenting process include if
the recipient:

Is pregnant.
Is immunocompromised (e.g. as a result of congenital or acquired immunodeficiency, or if they are taking immunosuppressive medication).
Has a past history of COVID-19 or ongoing illness from COVID-19.

For further information on counselling and vaccinating these groups refer to the ATAGI Clinical Guidance on use of COVID-19 Vaccine in Australia in 2021 v2.0.

What are the side effects of Comirnaty?

The side effects from Comirnaty are generally mild and short-lived, with onset mostly within 1 day after vaccination and duration of approximately 1–2 days.

In clinical trials, the most commonly reported adverse events in the first week after vaccination were:

Pain at the injection site (in about 84%)
Tiredness (in about 62%)
Headache (in about 52%)
Muscle pain (in about 37%)
Chills (in about 35%)
Joint pain (in about 22%)
Fever (in about 16%)
Diarrhoea (in 10%)

Clinical trial participants also rarely (0.3%) reported mild and transient lymphadenopathy (predominantly axillary or cervical) following vaccination, which may be related to the immune response to the vaccine.

Adverse events such as respiratory symptoms, vomiting and diarrhoea were no more common in the first week after vaccination in vaccine as compared with placebo recipients, meaning such symptoms are unlikely to be attributable to vaccination.

The adverse events described above were slightly more common after the second dose, and slightly less common in people over 55 years of age than in younger adults.

What are the side effects of COVID-19 Vaccine AstraZeneca?

In clinical trials, adverse events following COVID-19 Vaccine AstraZeneca were generally mild or moderate. They were most commonly reported on day 1 after vaccination, and generally resolved within a few days. The most common systemic adverse events at day 7 were fatigue, headache and malaise.

Common side effects reported after COVID-19 Vaccine AstraZeneca in clinical trials included2:

Tenderness at the injection site (in about 64%)
Pain at the injection site (in about 54%)
Headache (in about 53%)
Tiredness (in about 53%)
Muscle pain (in about 44%)
Feeling unwell, also called malaise (in about 44%)
Chills (in about 32%)
Nausea (in about 22%)
Fever (in about 8%)

Clinical trial participants also rarely (0.3%) reported mild and transient lymphadenopathy following vaccination, which may be related to the immune response to the vaccine.

Adverse reactions were milder and less frequent after the second dose, and were milder and less frequent in older adults (≥ 65 years old) compared to younger adults.

Are there any serious safety risks associated with Comirnaty?

The only known vaccine-related serious risk from Comirnaty is anaphylaxis. Anaphylaxis (a severe allergic reaction) is known to occur rarely after any type of vaccine.

No cases of anaphylaxis were seen in the phase II/III study of Comirnaty. However, anaphylaxis has been very rarely reported in US recipients of Comirnaty at a rate of around 5 cases per million doses administered (as of January 2021). In case series, most of the recipients who experienced anaphylaxis after Comirnaty had symptom onset within 30 minutes. The majority had a past history of a known allergy. The exact cause of anaphylaxis in these patients (e.g. if it was a particular component of the vaccine, such as polyethylene glycol) is still being investigated. No other serious adverse events have been confirmed to be directly linked to Comirnaty.

In the phase II/III clinical trial of Comirnaty there were four cases of Bell's palsy (idiopathic lower motor neuron seventh nerve palsy, leading to weakness of one side of the face) in the vaccine group compared to zero cases in the control group. This was still very rare and occurred at a rate consistent with the expected background rate of Bell's palsy. Therefore, the numerical imbalance in the trial may have been coincidental. This and a range of other adverse events of special interest are being monitored in post-market vaccine safety surveillance to determine, although very unlikely, if vaccination is linked with any unwanted rare or unexpected health outcomes.

Are there any serious safety risks associated with COVID-19 Vaccine AstraZeneca?

The risk of serious adverse events after COVID-19 Vaccine AstraZeneca is very low.

In clinical trials, one participant had a new diagnosis of multiple sclerosis 10 days after receiving COVID-19 vaccine AstraZeneca, however MRI findings suggested that the onset of the multiple sclerosis lesions pre-dated vaccination. A likely case of 'short segment inflammatory myelitis' also occurred in the vaccine group, with onset 14 days after vaccination. However, a causal association between the vaccine and these two cases cannot be concluded.

The rate of anaphylaxis following COVID-19 Vaccine AstraZeneca in the UK was reported to be around 1 in 1,000,000, similar to the known rate of anaphylaxis for all other vaccines.

When and where should vaccine recipients seek medical care after vaccination?

Vaccine recipients should seek medical care after vaccination if:

They think they are having an allergic reaction – if the reaction is severe, the patient should seek emergency medical care immediately by calling 000.

They are concerned about a potential side effect or have new or unexpected symptoms.

They have an expected vaccine side effect which has not resolved after a few days.

Vaccine recipients should seek medical care from their regular health care provider (usually their GP), unless it is an emergency. Mild, transient, anticipated side effects do not require follow up.

Can vaccine recipients take paracetamol or ibuprofen to reduce the side effects of vaccination?

Yes, paracetamol or ibuprofen can be taken after vaccination for a short time (e.g. 1–2 days) if required. However, they should not be taken prophylactically prior to vaccination.

How is the safety of COVID-19 vaccines monitored in Australia?

Vaccine safety is monitored in a number of ways in Australia. In passive safety surveillance, immunisation providers, members of the general public and pharmaceutical companies can report adverse events from a vaccine (refer to Question 15 below for further information). This is called passive vaccine safety surveillance because it relies upon people reporting any concerns.

Australia also has an active safety surveillance system called AusVaxSafety, which collects information directly from people who have been vaccinated. This information is collected by SMS surveys sent out from the vaccine clinics to people who receive vaccines (or their parents or guardians) to ask if they had any reactions after receiving a vaccine. The de-identified data is used to monitor the safety of a vaccine program in close to real time, and would enable rapid detection of potential vaccine safety issues.

Researchers and pharmaceutical companies also actively study the safety and effectiveness of vaccines after they are licensed.

The TGA and state and territory health departments' expert panels will regularly review all reported safety data, even more frequently than usual for other vaccines.

How should providers or vaccine recipients report an adverse event?

All immunisation providers are encouraged to report adverse events following immunisation (AEFIs). Providers practising in NSW, Western Australia, Queensland, Northern Territory or ACT are required under public health legislation to report AEFIs to their state or territory health department. Members of the general public can also report AEFIs.

Mild, short-lived symptoms which are expected following vaccination do not need to be reported.

There are multiple ways to report an AEFI:

Report to local state or territory health department.

Providers and recipients can report to the Therapeutic Goods Administration (TGA) Reports can be made via online form, email (adr.reports@tga.gov.au) or by phone (1800 020 653).

Providers and recipients can report to the NPS MedicineWise Adverse Medicine Events line on 1300 134 237 (9am–5pm Monday–Friday). Visit www.tga.gov.au/reporting-problems for further details.

Can vaccine recipients get COVID-19 disease from the vaccine?

Comirnaty is not a live vaccine, and it is not possible to get COVID-19 from the vaccine.

COVID-19 Vaccine AstraZeneca does not contain the SARS-CoV-2 virus. It contains an unrelated harmless 'common cold' virus (an adenovirus), which has been modified so that it cannot replicate after entering cells. It therefore does not behave like a 'live vaccine' and cannot spread to other cells or cause infection.
Questions about the Australian Immunisation Register (AIR)
Is it mandatory to record COVID-19 vaccine doses on the AIR? Why is health information reported to AIR, and how will it be used?

It is mandatory to record all COVID-19 vaccine doses given in Australia on the AIR. Vaccine doses administered overseas can also be recorded on the AIR.

A person does not need to have a Medicare number for their vaccine data to be included on the AIR.

The AIR is a whole of life, national immunisation register which records vaccines given to all people in Australia.

The AIR is used:

to monitor the effectiveness of vaccines and vaccination programs, including adverse events
to identify any parts of Australia at risk during disease outbreaks
to inform immunisation policy and research
as proof of vaccination for entry to child care and school, and for employment purposes
to monitor vaccination coverage across Australia.
Providers can use the AIR to check their patient's immunisation history, including the brand and timing of any previous COVID-19 vaccine doses that a recipient may have recorded.

Vaccine recipients can access their immunisation history statement via their Medicare Online account through myGov and via the Express Plus Medicare mobile app. Providers may also be asked to print an immunisation history statement. You may also advise your patients to call the AIR and request their immunisation history statement be sent to them. More information can be found on the Services Australia website.

Vaccine recipients can use this statement as proof of vaccination against COVID-19, should they require it for any reason.

Who will have access to recipients' vaccine information?

The Department of Health will collect, use and disclose your personal information as authorised by the Australian Immunisation Register Act 2015(Cth) and in accordance with the Privacy Act 1988(Cth).

More information on how personal details are collected, stored and used, is available at: www.health.gov.au/using-our-websites/privacy/privacy-notice-for-covid-19-vaccinations

Following their vaccination, individuals will be able to access their Immunisation History Statement (IHS) through their Medicare Online account through myGov, the Medicare Express Plus app, or their My Health Record.

AIR data is restricted to the individuals it relates to, vaccination providers (including state and territory health departments), and Commonwealth Officers who work on the AIR program from Services Australia and the Department of Health.

Immunisation statistics, such as immunisation coverage rates, are publicly available and published on the department's website.