Practice
Welcome to Jema Clinic where your health is our priority.
We provide comprehensive 7-Day medical care right in the heart of Maryborough.
Our experienced doctors offer a wide-range of general practice, family health and specialised services, so you receive optimal care at every stage of life.
Our Mission
To make health care in Jema Clinic demonstrably safer and better for patients and a more rewarding workplace
To treat you as the most important person in the practice.
Main Practice
6/133 Lennox street
Comet Place
Maryborough, QLD 4650

Tel: (07) 4120-5555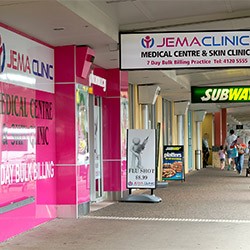 Branch Office
25/142 Lennox Street
Station Square Shopping Centre, Next to Subway
Maryborough, QLD 4650

Tel: (07) 4122-2021