Morgan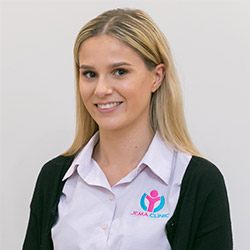 Hi! My name is Morgan and I am one of the receptionists here at the Jema Clinic.
I am thoroughly enjoying the challenges and opportunities that the role of being a medical receptionist presents me with.
I love working with such focused and caring professionals who go above and beyond to help their patients.
Working with people is a great passion of mine, and I hope to be an approachable and familiar face at the front desk for all our patients.
I look forward to continuing to learn more about the roles of a medical receptionist in the future.